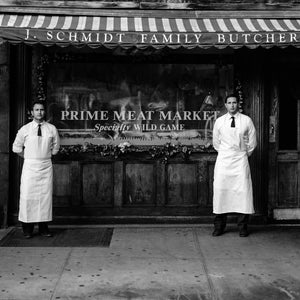 People ask us all the time,

"Are you guys really brothers?" Does a steak knife cut steak?

Yes, we're brothers, and you can explore our world class cutlery and innovative products right here!
How did Schmidt Brothers Cutlery Begin?
Building on Schmidt family traditions (yes, our co-founders really are brothers), our team are so much more than knife enthusiasts. 
After growing up in a family of chefs, Jared and Jordan Schmidt started their careers doing private label design for other brands (after a few brief stints in bartending and corporate logistics). Following the 2008 recession, Jared and Jordan saw the huge gap in the housewares market for beautiful, design-forward products that the conscious consumer could afford.  From there, Schmidt Brothers Cutlery was born, first launching in 2010.  
Although we have grown from the days of hand-packing each customer shipment in our garage, one thing has never changed - our lens on the world of cutlery and committing to seeing things differently. That's what makes our cutlery and BBQ tools so innovative. We're obsessed with pushing the boundaries of design: improving how comfortable a knife could feel in your hand, how you can cut more safely and easily, and creating epic style for the everyday kitchen. 
What makes the Schmidt Bros tick?
Our business is rooted in family tradition, and in creating lasting memories for our customers.
Our philosophy is that if any room should be called the living room, it's the kitchen. Food, family…that's really where life takes place.
We love seeing our customers' photos and stories that show this process coming to life in their own beautiful ways.