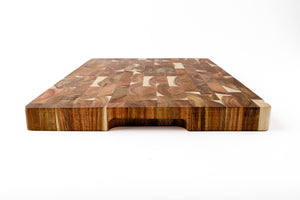 18" ACACIA END-GRAIN CUTTING BOARD
About this Board
As knife makers, we care about what your blades touch (maybe a bit
too much) and how they're used. The softness of natural Acacia wood
is blade-friendly, protecting your edges from getting dull like those
pesky plastic cutting boards. Even better, the naturally antibacterial
elements of Acacia wood make it durable and safe to use for preparing
and serving food.

Chop, slice, and dice for meal after meal on this durable, elegant
Acacia End-Grain Cutting Board measuring 18" x 12" x .75".


Why wait?
The next generation of your favorite cooking tool is waiting for you at Walmart.