The Kitchen Knives You Should Be Using for Your Christmas Meal
When it comes to carving the holiday roast (whether ham, turkey or beast), it's important you have the right tools. While asking your friend to grab any knife they can find from the kitchen in order to serve the main course is fine for amateurs, there are few humiliations worse than struggling to put meat on a plate in front of a table of hungry onlookers. (Remember, butchering the meal after it has been cooked isn't something to be proud of.)
So, in order to avoid public mockery, choose your meat cutlery knives carefully.
For your Christmas meats (and all other important meat meals), there's nothing better than the Schmidt Brothers Carbon 6 Carving Set. Complete with two pieces ( 8.5" Carving Knife and 7" Meat Fork) designed to make you cut like a total professional, this set gives you exactly what you need: precision and balance. Crafted with your holiday ham and Thanksgiving turkeys in mind, you'll feel like a boss handling the pure German stainless steel, which runs full tang. Better than any type of cutlery knives set available on the market, you'll be impressed with how strong and durable Schmidt Brothers tools are.
Because we know you'll be centerstage at your holiday meal, we've thought of everything to make sure your performance goes as planned.
Not only is our carving set cutlery knife perfectly balance, but the grip is designed to be as ergonomic as possible. The patented Schmidt Brothers Curve has been engineered so that the knife never slips, which means you'll get precise cuts every time (even for those guests who ask for the tiniest of portions).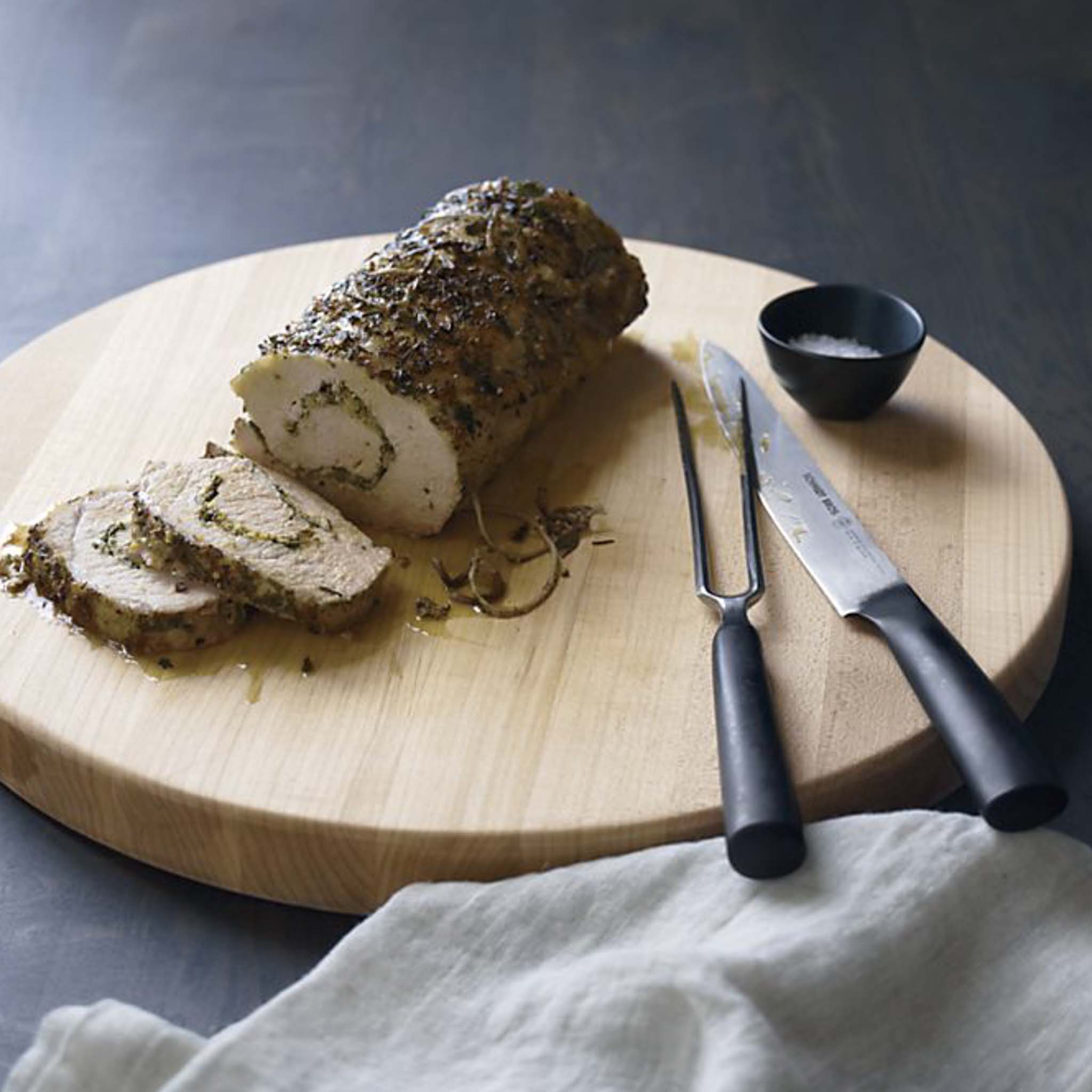 But, what makes Schmidt Brothers Cutlery such a great addition to your holiday meal is that they look the part. Designed with style and substance, we left our carving knife and meat fork unpolished, letting the flame-scorched handle do all of the talking. Everything about this set is refined, from the way they look to how they work. In fact, we know you'll love using this set so much that you'll find a reason to use it every week - not just for the big occasions. (Monday night rotisserie chicken anyone?)
Complete with a distinctive display case that's mindful of even the smallest of kitchens, even when you're not using the set, you'll definitely be thinking about them.
Ready to carve your roast beast? Here are a few tips from the Schmidt Brothers Cutlery team to make sure you dot all your i's (and eat all your t-bones) when using our meat cutlery knives:
Avoid cutting on surfaces such as stone, glass or metal, they're too hard for the blade. Stick with a wood cutting board.
If cutting through bone, do not use any knife but a meat cleaver, as other blades can be easily damaged.
Hand-wash with warm water and a mild detergent. Do not use a dishwasher to clean Schmidt Brothers cutlery.
Sharpen your knife at home using a sharpener particularly designed for your blade, or have it sharpened by a professional service.
Make sure to store your knife in a safe place to protect the blade and prevent injury. (Our display case is a great option.)
---