Press: Food and Wine Review of Schmidt Brothers
---
Brothers Jordan and Jared Schmidt are on a mission to bring artisan-inspired quality and thoughtful design to mass-market knives. While many other knife entrepreneurs focus on the high end, where chef wannabes might spend as much as $500 for a Japanese import, the Schmidts (Jordan is 32, Jared is 29) are now manufacturing excellent blades, priced from $10 to $25. Their new company, Schmidt Brothers Cutlery, is based in New Jersey, where they were born.
The Schmidt's debut line of knives, out now at Williams-Sonoma and other kitchenware stores around the country, are light enough for novice cooks- -and sharp and balanced enough to impress the experts in the F&W Test Kitchen. An exclusive line they created for West Elm has a comfortable acacia wood handle, giving the knife a hand-hewn style that's hard to find at a double-digit price point. The design of the blade itself was long debated. Most chef knives have a pointy "heel" next to the handle; in contrast, heels of Schmidt knives are curved (a patented design feature) so that you can't get nicked.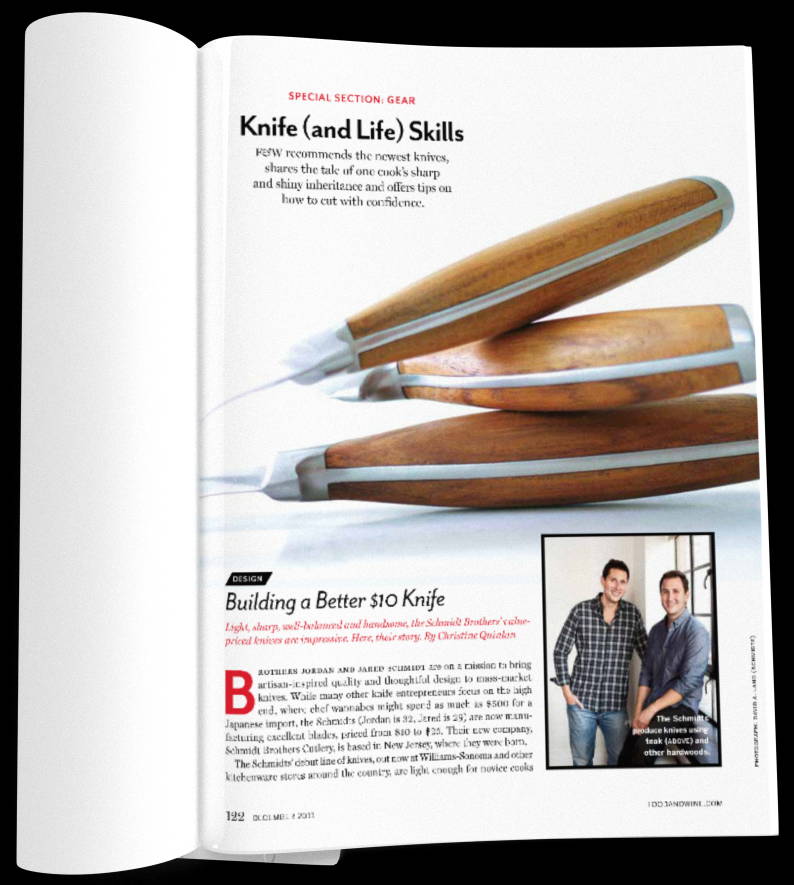 The Schmidt Brothers' knives have comfortable acacia wood handles, giving them a hand- hewn style that's hard to find at a double-digit price point."
Jordan learned the importance of safety the very first time he picked up a blade, when he was around eight years old, and sliced his thumb on the knife his grandfather had just given him. "That gave me a scare," he says,"and I actually stayed away from knives for a while after that." The brothers' grandparents, German and Czech immigrants, owned a restaurant, butcher shop and deli in New Jersey, and their father, an engineer by trade, would tackle woodworking projects in the family's basement. After beginning careers in other fields (Jordan, for instance, studied music and worked in restaurants), the brothers both ended up employed by major cutlery companies in different roles—Jordan in design and marketing, and Jared in manufacturing and logistics. They didn't like what they saw. "I'd see a $100 knife in a store, but I knew that it was just an inexpensive blade with someone else's logo slapped on it," says Jordan.
The brothers' company, which also makes cutting boards and knife blocks, is growing quickly. But they still try to keep it feeling like a family business, testing out new models with friends and going to their father for ideas. "We turn to our dad for advice on everything," says Jordan. "He's all about building things with his hands. Sometimes he'll spend a weekend making a knife prototype for us."
---