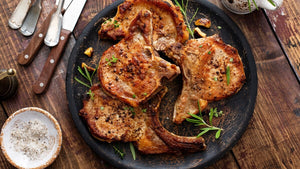 Cider Glazed Pork Chops &
Chorizo White Beans
SCHMIDT BROS. X HOMEMADE
At Schmidt Bros., we are on a mission to sharpen your passion for cooking and grilling. 
Homemade co-founder Chef Joel Gamoran has always believed that you don't need to be a professional chef to create a delicious meal.
It's a no brainer that Schmidt Bros. and Homemade partnered to offer delicious, fun cooking classes for our communities.
EXCLUSIVE FOR THE HOMEMADE COMMUNITY:
Take 20% off sitewide using code HOMEMADE20
We are a community
For everyone who believes cooking can bring people together
For anyone who has ever felt insecure in the kitchen for not being a "real" chef
For those looking for beautiful and modern cutlery that matches today's kitchens
What People Say About Schmidt Bros.
★★★★★

GREAT LOOKING AND SHARP KNIFE SET
★★★★★

A GORGEOUS SET OF KNIVES!
★★★★★

CHEF QUALITY IN YOUR OWN KITCHEN
Why wait?
The next generation of your favorite cooking tool is waiting for you.