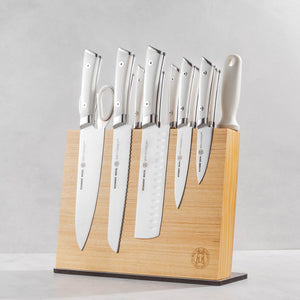 THE PRO-AM OF CUTLERY.
Who says professional-grade cutlery should only be for culinary professionals? With fully-balanced, ultra-sharp blades and a beautiful white ABS handle, you'll have a hard time letting go.
German Stainless Steel Blades
No shortcuts here! Our Professional knife blades are crafted from 100% German Stainless Steel.
Ergonomic White ABS Handles
Fewer things are more satisfying than a hand-friendly knife. These knives do not disappoint.
Schmidt Brothers Curve®
This patented bolster design is engineered for a comfortable grip, reduced slippage, and ease of use.
What People Say About the Professional Series
★★★★★

BEST CUTLERY I'VE USED IN 50 YEARS.
Why We Love German Stainless Steel
German stainless steel is a favorite of metal workers for its great wear-resistance, medium-bending and crushing strength, and strong beautiful grain.

We love working with this material and love featuring this beautiful steel finish in this series.
All in the Family
Blade Material: 100% German DIN 1.4028 Stainless Steel
Handle Material: White ABS
Professional Series includes:
14-Piece Professional Knife Block Set:
•  8" Chef's Knife
•  8" Bread Knife
•  7" Nakiri Knife
•  5" Serrated Tomato/Utility Knife
•  4" Paring Knife
•  (6) x 4.5" Serrated Steak Knives
•  Kitchen Shears
•  Honing Rod
•  White Oak Universal Magnetic Storage Block

3-Piece Professional Chef Set:

•  8" Chef's Knife
•  5" Serrated Tomato/Utility Knife
•  4" Paring Knife
Why wait?
Start cooking like a pro today.